Pixelated Mosaic Picture Kits
Bee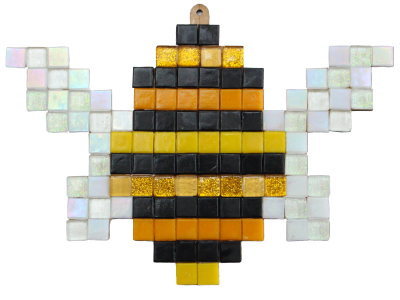 Make a brightly buzzing bee. Contains a mix of rich orange yellow and black tiles, with extra glitter tiles to add sparkle and pearlescent tiles to make the wings really wing like.
£11.00
Budgie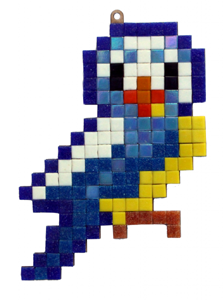 £11.00
Butterfly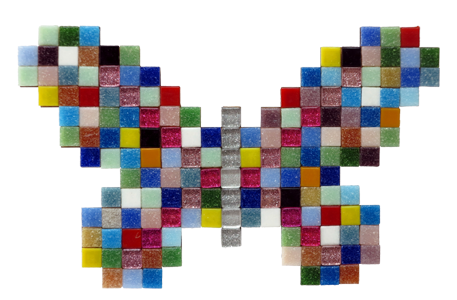 One of our most popular kits for all ages. A rich harlequin mix of tiles is given added interest with a mix of different coloured glitter tiles.
£11.00
Dinosaur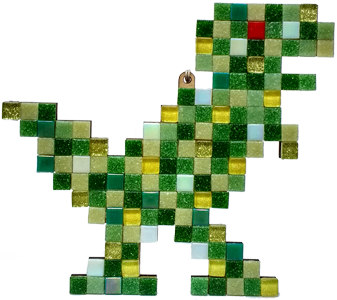 One of our larger kits - it would have to be to do this Tyrannosaurus rex full justice - it has lots of greens and glitter tiles to make up a monster.
£11.00
Dog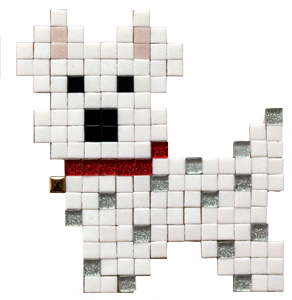 This cute 'Scotty' pup is a new addition to our collection.
£11.00
Dragonfly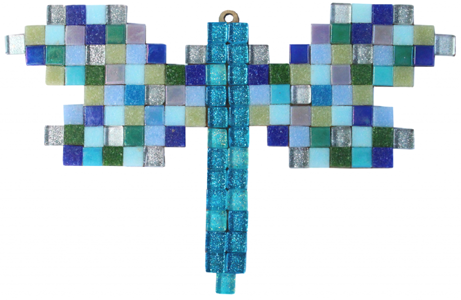 The dragonfly uses a mix of turquoise and glitter tiles to give it life-like colours.
£11.00
Duck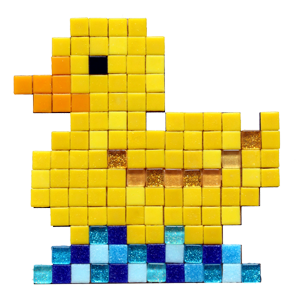 Lots of yellow and golden glitter tiles make up this bath-time character.
£11.00
Elephant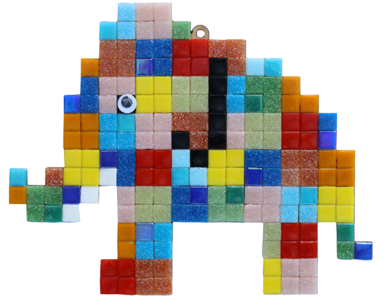 This elephant is a bold and bright mix of primary colours that will brighten any playroom or bedroom.
£11.00
Fairy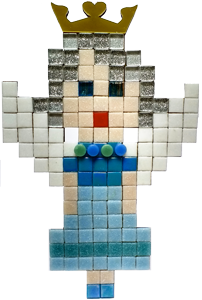 A beautiful fairy with lots of 'fixtures and fittings': silver glitter hair, blue lustre dress, a string of beads, all topped off with a shiny gold crown.
£11.00
Fish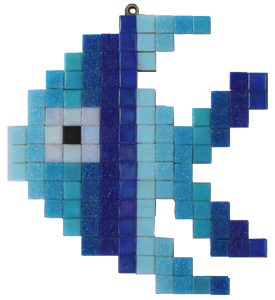 Several different tones of blue and a mix of tile types gives this Angel Fish a seaside feel - why not hang it in your bath or shower room?
£11.00
Flamingo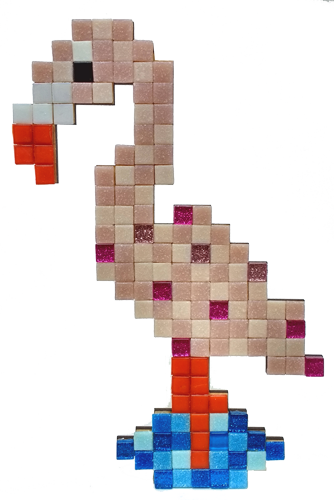 A rich mix of tiles from across the spectrum let you make this elegant bird.
£11.00
Fox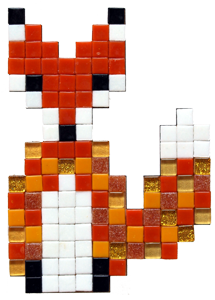 This fox is a popular new picture kit produced in response to requests for 'more animals please!'.
£11.00
Giraffe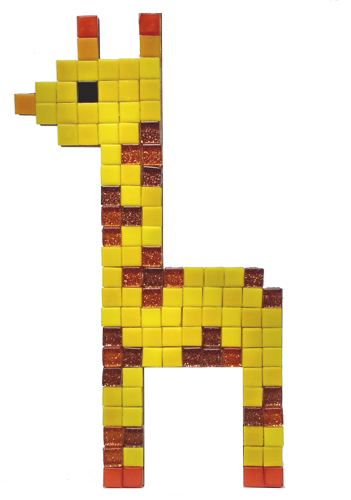 Another popular addition to our range of animal picture kits: tall, bright and loud!
£11.00
Heart Pink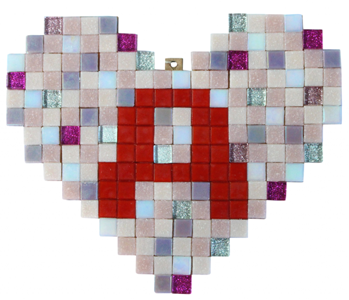 This popular heart design contains a pattern sheet and extra tiles so that you can work any initial into the design. Beautiful magenta glitter tiles add depth and interest to the background.
£11.00
Lizard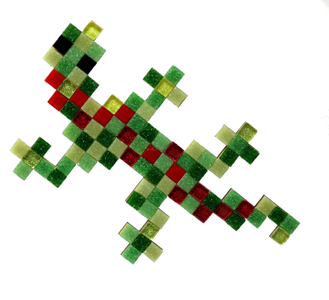 Hang this gecko from a wall and it seems to be in scampering motion.
£11.00
Love
A rainbow themed love logo. Groovy!
£11.00
Mermaid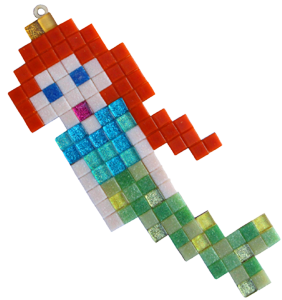 Designed by an upcoming mosaic designer, Maeve, our Mermaid has definite Irish ancestry as can be seen from her green colouring and red hair.
£11.00
Monkey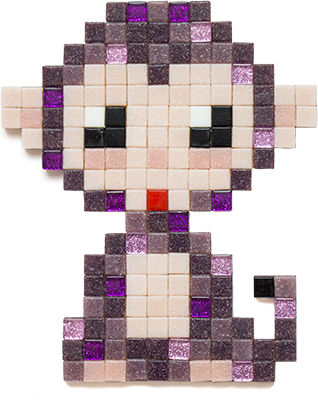 This cheeky chap is a new addition to the range.
£11
Owl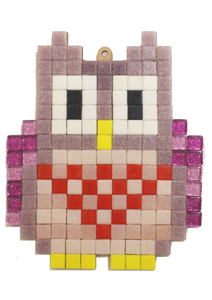 This wise little fellow's eyes will follow you round the room. The owl's plumage includes a beautiful mix of irridescent glitter tiles.
£11.00
Penguin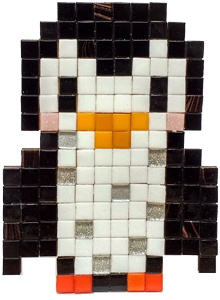 This little chap is just so cute! We've pepped up his look with some beautiful black lustre and silver glitter tiles to give his plumage a real sheen.
£11.00
Rainbow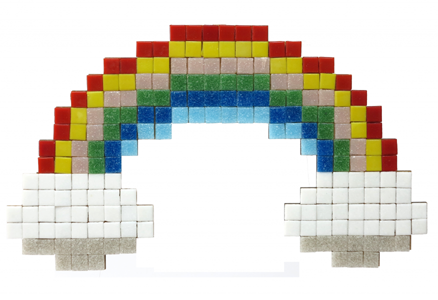 Hang our rainbow in your window and the sun will always be shining keeping the clouds at bay.
£11.00
Robot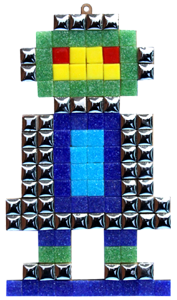 Silver metallic tiles make this retro robot shiney and fun!
£11.00
Rocket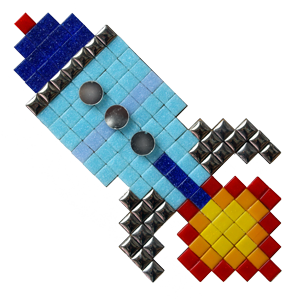 This is our second design on a 'retro' sci-fi theme.
£11.00
Seahorse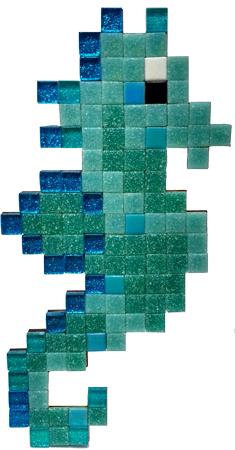 A rich mixture of ocean colours which includes turquoise and blue glitter tiles, makes this a charming piece.
£11.00
Union Jack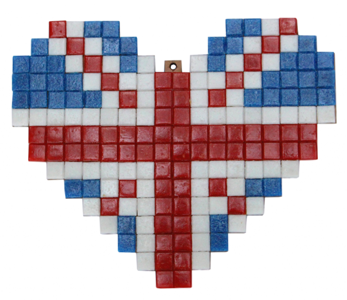 Fly the flag with this Union Jack 'peace 'n' love' heart.
£11.00
Tractor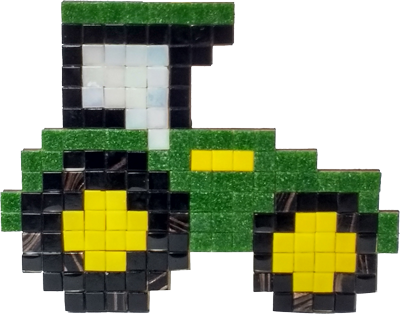 A realistic tractor in green and yellow, with black lustre and metallic silver tiles to add interest.
£11.00
Unicorn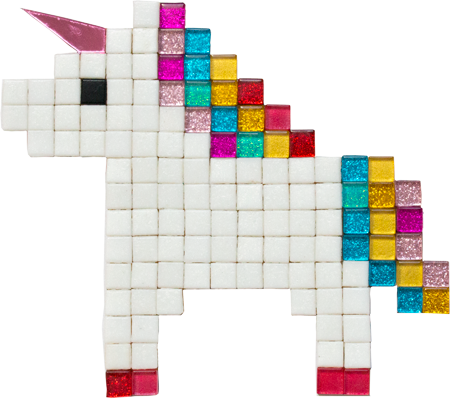 This new kit features pearlescent and glitter tiles with a mirrored 'horn'.
£11.00